House of Greymane



Coat of Arms

A shield adorned with many various symbols of Gilneas, predominantly the Wolf.

Words

Glory to Gilneas.

Seat

Greymane Manor

Current Head

King Genn Greymane

Region

Gilneas

Title

King of Gilneas

Lands

Sovereignty over all of the Kingdom of Gilneas, Gilneas City.

Vassals

All of Gilnean Nobility.

Loyalty

Founder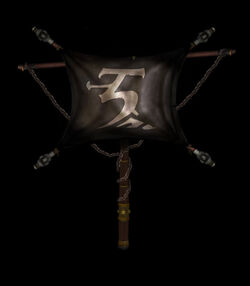 The House of Greymane is the current reigning house of the Kingdom of Gilneas, holding the position of monarch in the kingdom. The House of Greymane is currently run by King of Gilneas, Genn Greymane, who has reigned over the kingdom for several decades since the death of Archibald Greymane. The house traces its lineage back to the first king of Gilneas, Aderic I and claims legitimacy through this. The House of Greymane's line has ruled Gilneas for hundreds of years since 87 F.A. after Aderic II's victory over his brother Sammith Silverlaine, and has seen Gilneas through all of it's hardships since.
The Greymane Wall is named for the family.